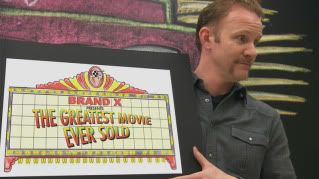 The new issue of NOW finds us still very much in festival mode. I've got an interview with Morgan Spurlock, whose "POM Wonderful Presents The Greatest Movie Ever Sold" begins its commercial run tomorrow fresh from opening Hot Docs, and I've also contributed a few more reviews to our coverage of that still-ongoing fest. (You'll find yet more online at NOW's Hot Docs minisite.)
But Hot Docs overlaps with the Toronto Jewish Film Festival this year, so we're on that, too. My contributions include reviews of "Red Shirley", "Songs of the Lodz Ghetto" and "Chasing Madoff" — all of which are documentaries, because it never ends.
I'm just so tired. So very, very tired.